,,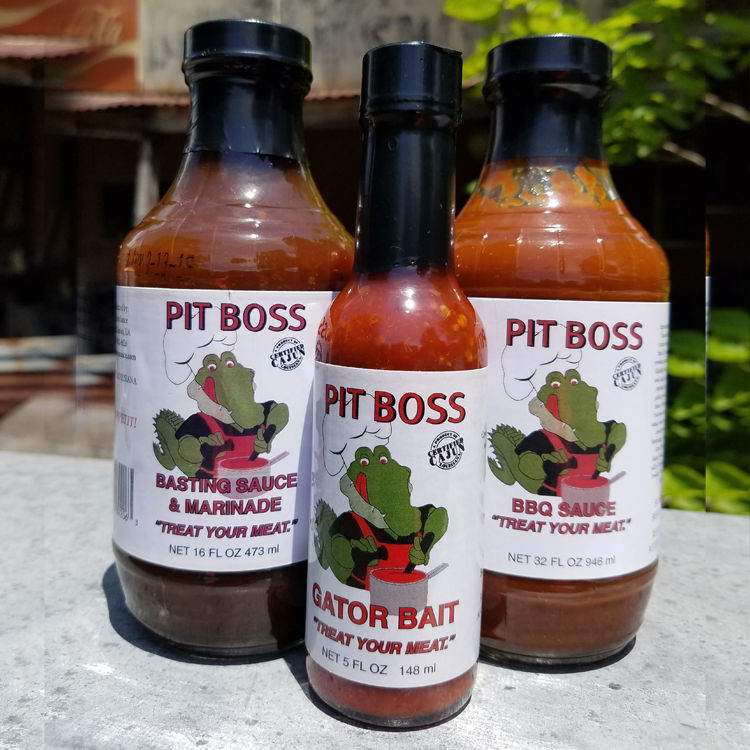 The best sauces from Cajun country are known for their hearty heat.  A mix of rich meats and seafoods, a flavorful sauce, and slow cooked veggies served over rice filled stomachs and hearts.  While the Cajun cuisine has changed over the years, what remains at the heart of every dish are regionally available ingredients and a thick sauce with some sweet, hearty, heat. 
A Louisiana company, Pit Boss Sauce, stays true to the staples of what makes Cajun food – Cajun.  Out of the 16 ingredients inside their sauces, only 3 aren't from Louisiana.  Focusing on keeping the rich taste without the heartburn was the mission of Pit Boss.  Achieving their goal, they now produce some of the most satisfying sauces in the South.  Creating some unique spins on traditional favorites the innovative style of Pit Boss Sauce has helped them create some of the best sauces from Cajun country and helped their customers leave heartburn behind. 
 Sauces come in many different styles—the kind we cook in, the kind we baste in, the kind we dip in and Cajun, the Cajun flare doesn't have to be in only one type.  Using the highest quality ingredients, the Pit Boss, Boss of Sauce has created a specific new taste that everyone who's ever enjoyed a Cajun meal will love.  Proudly made with olive oil to eliminate heartburn that comes with other Cajun sauces, Pit Boss sauces have the same Cajun flavor without the risk of indigestion.   
The one of a kind taste and special no heartburn formula easily landed Pit Boss Sauces the title of the 4 best sauces from Cajun country. 
 Cajun Dipping Sauce 
Made with quality ingredients, this creamy dipping is a pantry shelf staple.  Add it to a baked potato for a little spice or for a delicious cookout classic, mix some of this Cajun dipping sauce into a traditional potato salad recipe.  This sauce is a perfect side to any seafood or fried favorite.  A hit at barbecues, family gatherings and any crawfish boil, this down–home favorite is a Louisiana family favorite set to go nationwide.  
Cajun Jalapeno Mustard 
Recently in stores, this mustard captured hearts and taste buds.  A spicy spin on an American favorite, this Cajun Jalapeno Mustard is a perfect mixture of traditional cuisine and that well-known Cajun heat.  It's great on sandwiches and as a side to many dishes.  Some fans even stir it into some of their favorite salads.  Like all Pit Boss Sauces, this sauce is made with local ingredients and olive oil to eliminate the risk of heartburn. 
Cajun Spaghetti Sauce 
Pasta night will never be the same once this Cajun spaghetti sauce gets an invite.  A household favorite for a fast week night dinner, just heat up this Pit Boss Sauce and serve over some al dente pasta.  It's packing a sweet heat that your family will crave.  Many Cajun lovers keep some of this on hand for a tasty meal in minutes. 
 Gatorbait Hot Sauce  
Arguably the best Cajun sauce ever, this hot sauce is delicious and won't end in heartburn regret.  It makes a perfect addition to any dish, giving it just enough kick to keep everyone coming back for more. Stir it in to any rice and gravy mix or add it to a big pot of gumbo.  It's so good some people keep it in their purse or under their truck seat.  Ordered by the cases, this hot sauce may just be one of the best Cajun sauces ever.  
Pit Boss Sauces makes the best sauces from Cajun Country 
Combining local ingredients together in a way that is sensitive on digestive systems proved to be hard in the heart of Cajun country, but the owners of Pit Boss sauces accomplished it.  Creating a delicious BBQ sauce and a Cajun marinade perfect for grilling, their sauces are on store shelves and making their way to smiling faces at the dinner table.   
Offering a variety of types of sauces, Pit Boss keeps creating delicious new sauces and flavors that their customers love.  The hottest sauce created yet, Cajun Jalapeno Mayeaux, which is the best hot dog and hamburger condiment with a little kick on the market.  Treat your meat with Pit Boss Sauces by purchasing online or in a store near you. 
http://treatyourmeat.com/wp-content/uploads/2018/07/treatyourmeat-logo-black.png
0
0
treatyourmeat
http://treatyourmeat.com/wp-content/uploads/2018/07/treatyourmeat-logo-black.png
treatyourmeat
2019-03-01 17:50:45
2021-07-05 11:30:04
The 4 Best Sauces from Cajun Country: Cajun Dipping Sauce, Cajun Jalapeno Mustard, Cajun Spaghetti Sauce, Gatorbait Hot Sauce